A Memoir about Parenting
Forthcoming from SparkPress in 2022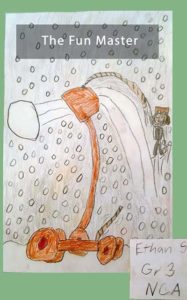 Jeff's newborn son Ethan was being prepped for emergency surgery when they shared a special moment that convinced Jeff that Ethan had chosen him as his caregiver. The lad had obviously not consulted Jeff's HR file. A self-centered academic struggling to cope with his own neurological problems, Jeff could barely take care of himself, let alone a child in fragile health. Yet thus began Jeff's improbable journey of self-discovery and transformation with Ethan serving as his guide. #Mr. Mom meets Baby Yoda.
Tending to Ethan's medical needs left Jeff little time for his own extensive self-care regimen. Ethan' joyful demeanor and instinct for fun saved Jeff from despair over and over. He died in a tragic accident just shy of his tenth birthday, but not before he taught Jeff how to live in the moment rather than try to control it and about the saving power of putting other people's needs before his own.
Told with self-deprecating humor and an eye for what makes us all human, The Fun Master will interest anyone who feels overwhelmed by life, but especially parents of kids facing unusual challenges.
Signup for my newsletter to receive updates below.
Subscribe to Jeffrey's monthly newsletter
"Without Family, Man, Alone, Trembles With Cold"
– Andre Maurois